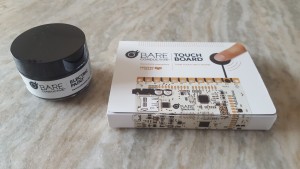 Touch Board and the famous Electric Paint
Touch Board
Have you heard of an Arduino compatible device which supports Touch interface, distance sensing, MicroSD Card, Audio Jack, MP3 decoder, Micro USB, JST Connector and more. Well, we have! Let's introduce our newest board, Touch Board which was brought to life by Bare Conductive. In this article we are going to review this product by mentioning
specifications, use cases and what is particularly interesting about this product.
Touch Board brings electronic projects to a new level of… Fun!! Touch Board, with the help of some Electric Paint, turns every surface into a sensor. Being a piece of paper, a t-shirt or even a wall, Touch Board is capable of sensing the world through unorthodox media. You can connect any conductive material, not just Electric Paint, to it's electrodes and let the fun begins. You can play music files, toggle LEDs, start a motor, or anything you dream of. Remember Touch Board is an Arduino with many extra features, so anything you can do with an Arduino, Touch Board will do it even better. Have I mentioned that Touch Board is part of the Arduino AtHeart program? It was actually one of the first to be selected for the program.
Touch Board is jam packed with features such as:
Touch Sensing
Distance Sensing
MP3/MIDI Player
MicroSD card Socket
Standard 3.5mm audio jack
Supports LiPo which is recharged via USB
HID capable, Touch Board can act as a keyboard or mouse
It comes pre programmed and ready for action
Some interesting specifications:
Arduino compatible (recognised as an Arduino Leonardo in IDE)
Atmel ATMega32U4 Microprocessor
Freescale MPR121 dedicated touch interface
VLSI VS1053B audio processor
Arduino Shield Compatible (check pins available)
32 KB of Flash Memory of which 4 KB is used for bootloader
5V operating voltage (automatic voltage selector for USB or battery operation)
Built in LiPo battery charging with onboard boost circuit for 5V operation
16 MHz clock speed
Can be powered and programmed over USB
20 digital I/O pins (3 used for Touch IC and 5 for MP3 IC – can be disabled)
7 PWM channels
12 analog input channels
12 Touch electrodes of which 8 can be configured as extra digital inputs or outputs with PWM capability
84mm x 62mm foot print with maximum height of 10mm (audio connector)
On/Off switch when powered from battery
Touch Board is an open source hardware and software product, something Bare Conductive thrives on.
Electric Paint
With Touch Board you can use any conductive ink and or material, but if you're at it make sure you buy some Electric Paint. It's awesome. Currently we at Runtime Projects are conducting (pun intended) some research on the Electric Paint. Different shapes, sizes, lengths and resistivity; and we will be publishing some cool findings soon. But more on that later.
The Electric Paint makes a lot of impossibilities, easily possible. It is as simple as drawing shapes, lines, letters, anything really; and make all these interactive. For example, one can use the Electric Paint to create a non touch drum set with sounds being played using Touch Board. Or maybe with some imagination one can create a new type of kids friendly dartboard.
The concept here is that the Electric Paint can be applied on a wide range of non conductive materials and it brings to life simple drawings with a little touch.
As you might have already guessed, we at Runtime Projects, are experimenting with Touch Board and Electric Paint, and we believe you should too. We suggest you visit Bare Conductive website at https://www.bareconductive.com/ and take a good look at these amazing products.